When the Indians hired Eric Wedge at the end of the 2002 season I was none too happy.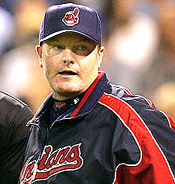 To replace Charlie Manuel, fired in mid-season, I was hoping the Indians would hire a real baseball man. Old school. Someone who could take charge of the team that was about to be formed, full of neophyte players trying to make a name for themselves. They didn't need to be a screamer. Just someone with some cred who could make an impression on the kids. I wanted ... Charlie Manuel - but with a clue.
Instead I got a 34-year-old hot shot, who had gone from a Class A manager, to AAA in three seasons. And then on to the big club in two more.
What's more, the image he brought was just what I was NOT looking for in a manager. A modern, video-tape-watching, spread-sheet-carrying tactician.
At least THAT might be a welcome change from the aw-shucks, belly-scratching approach taken by Manuel.
Still this guy was 34. Just another bargain-basement hire by a bottom-fishing club.

Once I began to get a feel for Wedge's presence in TV reports from spring training, or his post-game interviews on the radio during his first season, I liked him even less. Instead of a firebrand he came across as a bookish mumbler - the pre-genius Bill Belichick with Chief Wahoo on his cap.
In short, this was not going to be an easy sell for me.
Four-and-a-half seasons later I'm feeling a bit differently. But it took until this season for me to really determine how I felt about Wedge.
Wedge's first two seasons were tear-it-out, build-it-back-up-and-see-what-you-have years. The record, as the manager and general manager were sure to mention at least once a day, was not important.
In 2005, the Tribe came out of nowhere and put up 93 wins, missing the playoffs on the last day after losing every game in the final week. I suppose a fair amount of blame for the collapse could be placed on the manager, but the retreat was team-wide and complete. The bats shut down and the defense was shabby.
I really began to have my doubts about Wedge last year. The disaster. The bullpen blew up from day one and, with the Tigers exploding out of the chute, the season was over before it began. Still, Wedge managed to make the best out of a bad situation, holding the team together well enough win 31 of their last 51, bringing them close to the .500 mark by season's end (78-84).
In his first three seasons the team improved from 68, to 80 to 93 wins, before last year's detour. Through it all, Wedge employed the right mix of discipline and calm, keeping steady control of his players.
There were some problems. Milton Bradley for one. But he has shown himself to be a nut job everywhere he's gone (Give him some time, he's just arrived in San Diego). And then there's Brandon Phillips, of whom too much was expected at first and then not enough time was given to work things out. That's being chalked up as an "organizational error," but you can safely assume Wedge played a role.
For most of his tenure, Wedge has played too much station-to-station baseball for my taste, but with Grady Sizemore and Josh Barfield he's loosened the reins a bit this season.
The manager has done his best job of managing this season. He lost two starting pichers for long periods in the first half (Cliff Lee and Jake Westbrook). A third starter, Jeremy Sowers, did a full-scale wipeout on him after a solid rookie season. Travis Hafner hasn't hit the way he can and Wedge has done a good job of mixing and matching with what he's been given in the corner outfield positions - though that's been a little like mowing the lawn with a weed-wacker. Then there was the Siberian Open - the season-opening series that never was, followed by a "home" series in Milwaukee and endless weeks without time off as the Tribe tried to make up for the lost first week of the season.
Despite the rough going, Wedge has the Tribe 1/2 game behind the Central Division-leading Tigers in mid-July. They lead the Wild Card race and have the fourth best record in the A.L. - but are only one game behind Boston and the Angels for the best record in the league.
With all the key players except C.C. under the Tribe's control into the next decade, it was time for their skipper to get his.