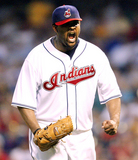 "We're more like a family than a team here. We get along on and off the field. Our families get along."

"Everybody wants to stay. The core of this team has been together for a long time. We've been through a lot together. We want to win together." - C.C. Sabathia as quoted by the Plain Dealer 7-12-07

****
I've never even thought about playing for another team. I really like the idea of playing your whole career in one place. That doesn't happen much today. You look at Cal Ripken, Tony Gwynn, Kirby Puckett. For them to play their whole careers for one team, that's very special.""What I do know is that my wife and I love it here, and we'd love to stay."

Jim Thome quoted by the Plain Dealer during the 2002 season

***
"As a player, ultimately, the bottom line is you want to challenge yourself and get a chance to win."I think that's what our decision was in this process."

Jim Thome quoted a few months later by CBC Sports after signing with Philadelphia
--------------------------------------------------------------------

Travis Hafner will be sticking around for some time to come.

That is good news for Tribe fans and a feather in the cap of the Dolan family, much maligned for its perceived penchant to pinch pennies.

With the signing of Hafner's five-year, $57 million contract extension, the Tribe is two-thirds of the way through its process of keeping its prominent soon-to-have-been free agents off the market. Jake Westbrook was signed in the spring.
But in this instance – Sister Anastasia and her flash cards be damned – one-third may just prove to be larger than two-thirds. It's going to be much harder to get the third potential free agent – C.C. Sabathia – to fit in with the Tribe's economic structure.
Based on the contracts produced by the idiocy of last winter's free-agent signing orgy, the numbers C.C. will command two off-seasons from now are incalculable. But they're going to be exorbitant. And they may take up about one-fourth of the Tribe's entire payroll.
Last winter Barry Zito (pitching poorly in Frisco this season) agreed to cross the Bay for seven years at $126 million. That's $18 mil per year. Jason Schmidt (out for the year) fled San Fran for L.A. on a 3-year, $47 million pact. Zito was 16-10 in 2006 but barely over .500 the three previous years. Schmidt finished last year at 11-9, with a 3.59 ERA. His last big year was 2004, at 18-7.
Then there are last winter's second-tier signings: Andy Pettitte - one year at $16 million; Jeff Suppan - four years at $42 million; Ted Lilly four years at $40 million.

And the just plain stupid signings: Vincente Padilla – three years at $34 million; Gil Meche – five years at $55 million.
It does not bode too well for the Tribe and C.C. No matter how much it might want to, a team like Cleveland may not be able to absorb the $20 million a year or more it may take to sign Sabathia. And given his size and the fragility of any pitcher's arm, it may not be a smart risk for a team that can't just outspend its mistakes (re: Yankees).
I'm not here to break up the party. Let's be thrilled that Hafner signed. Let's enjoy the feeling of security that comes with the team's core being locked in for several years. Let's give the Dolans some props for a change.
And, let's hope C.C. is up for a "family" discount.