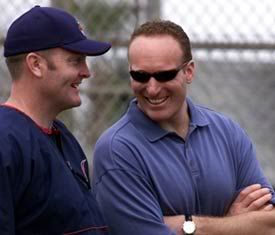 Tribe fans - much like all fans - like to point fingers when things are going poorly.
The biggest targets seem to be Tribe GM Mark Shapiro and manager Eric Wedge.
I guess there's no surprise there.
But Brian La Shier, one of my partners at MVN's Tribe Report says dropping the blame for this year's fiasco in the laps of GM Mark Shapiro and Eric Wedge is unfair.
"I was asked to compile a review of Cleveland's front office and coaching staff. That sounded easy enough at first considering all the poor decisions, botched trades, and managerial shenanigans. The more I thought about it though, the more I realized that Shapiro and Wedge really aren't to blame for the season getting off track so dramatically. Some of the more pessimistic fans in the crowd might want to sit this post out because (

gasp!

) this team was managed much better than their place in the standings would indicate."



Read the rest of Brian's comments here, in the final installment of MVN's three-part series looking at the Tribe's first half
.
Meantime, t
he second-half of the season has gotten off to a pretty rotten start. Aaron Laffey was awful, allowing eight runs in 3 2/3 innings in Seattle Friday night, although five of the runs were unearned.
While that bothers me, a couple of other things bother me more.
David Dellucci was in the frickin' lineup again tonight. There is just no logical reason for him to be there. He's been awful, and he has no role in the future. His appearances at DH are taking ABs away from Ryan Garko and others - at-bats they need to prove that they either belong in the big leagues, or they don't.
Every decision made from here on in must be made with next year in mind. I don't see how Dellucci playing contributes to that goal.
The other thing that bugs me is the statue-like play of Jhonny Peralta at short. It was his booting of a routine groundball that opened the floodgates for the five unearned runs off of Laffey in the second. Peralta and Marte should be splitting 3B to see if either is a viable alternative there for next year, while Asdrubal Cabrera should be given the chance to make a bid for the 2009 shortstop job.
I have to admit with the four Tribeless days completed, I was looking forward to things getting started again so we could start watching the "next-year" folks - Marte at 3B, Cabrera as SS, Peralta at 3B, Raffy Perez as closer.
These moves make sense to me, but I'm not sure the powers that be see it the same way. For them - for some reason - it's important to get David Dellucci some more at bats.