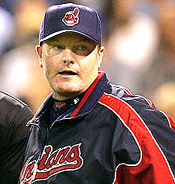 There are two bits of news on the Indians Web site tonight.
It's another piece of off-season hardware for the Tribe - a Gold Glove for Grady, a Cy Young for C.C. and Executive of the Year for Mark Shapiro are the others.


But what we really need is some post-season hardware. The big one! The off-season awards may be an indication that we're on the right road. Let's hope we get there - and soon. I'm not that young anymore.
--
One honor that may be in the offing baffles me. But I guess that's because I measure this person by the work (damage) he did with the Indians for so many years and not his overall career.
Paul spent about 30 years in baseball, 19 of them with Cleveland- with some World Championship time in the middle in New York and a pennant won in Cincinnati early on.
During his 20 years at the helm of the Tribe he - and sidekick Phil Seghi -
were responsible for 30 years of awful baseball.
It was during their tenure that the Tribe became the joke of baseball - the late-century version of today's Kansas City Royals, only worse.
In Paul's first go-round with the Tribe, 1962 - 1973,
the team had two winning seasons, one .500 season and losing seasons for the rest of the period. They finished anywhere from 14 to 40 games out of first place during those seasons. Their best season at the gate was 1965, when they drew 934,786; their worst was 1963, when 562,507 watched the Tribe in person.
In Paul's second coming, 1978 - 1984, the Tribe finished two seasons out of seven above .500, 1979 (81-80) and the strike-shortened 1981 (52-51). Excluding the strike-shortened season, the closest they came to first place was 17 games, in 1982.
Mostly I'll remember Paul for one thing. The role he played in two of the Tribe's worst-ever deals. Over the period of about 18 months the Indians sent slugging first baseman Chris Chambliss and powerhouse third-baseman Graig Nettles to the Yankees for what amounted to Charlie Spikes, a pair of spikes and a bag of balls. A few months after the Nettles deal he joined the Yankees' front office. A short time after joining the Yankees, he picked up Chambliss. Hmmm?
Plus Paul is said to have played a key role in the sale of the Yankees by CBS to George Steinbrenner.
It's not exactly betrayal of Art Modell proportions, but it smells a bit doesn't it?
To be fair, the Paul-led Tribe teams were backed by some of the worst ownership groups (Ted Bonda, Vernon Stouffer) in the game's history, but four winning teams in 19 seasons?
Sounds like Hall of Fame material to me.