Cliff Lee, with another dominating performance tonight at Progressive Field, became the first Tribe hurler in 34 years to win 20 games.
Lee boosted his record to 20-2 on the year, tossing a five-hit shutout - getting 21 White

Sox

in a row from the first inning through the first out of the eighth after giving up two singles to lead off the game (there was on DP thrown in making it 22 OUTS in a row).
Lee has won 9 of his last 10 starts - with the other being a no-decision - going back to mid-July. His best month of the season was

April

when he won all five of his starts and had an 0.96 ERA. August was just about as good - as Lee went 5-0 with a 1.96 ERA.
The worst month of the season for Lee - June 3-0, 3.41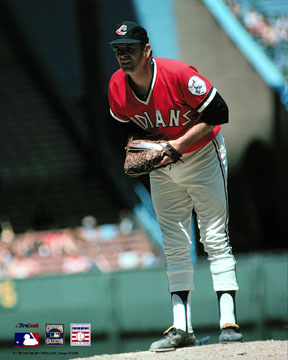 Gaylord Perry was the last Indian to win 20 - going 21-13 with a 2.51 ERA for the Tribe in the 1974, the year this blogger graduated from Cleveland Central Catholic High School.
Perry's brother Jim was back with the Tribe that year, contributing 17 wins of his own, with a 2.95 ERA.
Unfortunately everyone else in the rotation was above 4.00, which for the time period was a sub-par number. The Tribe finished the season at 77-85, in fourth place in the A.L. East, 14 games behind the division-winning Orioles.
In addition to Perry's outstanding season there were a number of other noteworthy events in 1974.
There was, of course,
10-cent beer night
, on June 4 of that year.
About six weeks later, on July 19, Dick

Bosman

- the only other starter on the team with a winning record at 7-5 - threw a no-hitter against Oakland at Cleveland Stadium.
Chris

Chambliss

started 1974 as the Tribe's first baseman. But he didn't make it through April, having been traded to the Yankees along with Dick

Tidrow

and Cecil

Upshaw

for Fritz Peterson, Steve Kline, Fred

Beene

and Tom

Buskey

.
Tidrow

found a home eventually in the bullpen of the Yankee pennant winners later in the decade and we all know what Chris

Chambliss

did for the Yanks.
Buskey

became the Tribe's closer in '74, posting 17 saves.
Fritz Peterson was famous for trading wives with former Yankee teammate Mike

Kekich
and not much good came from Freddie

Beene

or Kline.
1974 was also the year The Big Mon - Rico

Carty

- joined the Tribe, after rehabbing his career in the Mexican League.
And, Frank Robinson was picked up late in the season as a precursor to his taking over the club next year as baseball's first African American manager.
I took this little trip in the memory mobile to help illustrate just how rare the 20-win season has become in baseball.
So hats off to Cliff and hope you've been appreciating each and every outing Cliff has made this year.